Signature 10 Week Group Immersion
Feminine Remembrance: Come Home To Yourself
Return to your Womanhood is a sensual soulful experience to allow yourself to be present in a container with all of you. And to RELEARN PLEASURE in the body. 
To slow down  to feel SAFE to receive what feels good
To RECLAIM pleasure which is your BIRTHRIGHT
To practice being SEEN and HEARD
To ignite your sensuality
To connect with your womb's wisdom
To get clear about what you desire
To know you are worthy of feeling goodness and bliss
Your Womanhood is for You, if you:
You feel  stuck or exhausted with all of your emotions and thoughts
Tend to not trust yourself, and shut down if things don't work out
Feel ashamed about your body and sexuality
Are going through the motions of life, doing all the right things yet never feeling at peace
Feel guilty about experiencing pleasure but desire to feel PLEASURE
Feel unsafe or not worthy of feeling good
Are done with "manifesting" and receiving a way that exhausts you
Are you giving yourself away, not claiming what you truly want
Feel overwhelmed but ready to embrace ease in your body
Want to know how to reconnect with your body
Are ready to express your sexuality in a way that feels authentic
Want to feel beautiful, ALIVE and radiant
Desire to feel rested and at ease
YOUR WOMANHOOD is for the woman who DESIRES to…
Experience ease, peace and safety in her body
Understand the nature and language of her body- when she feels doubt, shame and guilt
Feel sexy, alive and more connected to her self worth to be the best version of herself
Radiate in her own vitality and natural beauty
Feel confident, inspired and have clarity in her desires
Use her intuition to guide her life
Have courage to listen to her body NO and YES in life and relationships
Be engaged with all of her senses to be connected to her sensuality
Be fully embodied so she takes back her power
Know her standards and boundaries in a relationship
Feel nourished, grounded  and worthy of receiving a relationship that makes her feel full and replenished
Embrace pleasure as a way of healing
Reconnect to her EROTIC nature
Connected to & in tune with her greatest power in her WOMANHOOD in a private 1:1, cozy, safe setting with me. 
It is time to release the layers of shame, guilt and self doubt and step into your innate, feminine power.
It is time to rise up in LOVE & Sensuality and REMEMBER your WOMANHOOD for a life of EASE, Creativity and LOVE.
This is how we live on PURPOSE and in self leadership. And how you get clear about your needs and wants in a conscious relationship.
 When you feel nourished and reconnected with your WOMANHOOD through your womb, heart and body:
There is an inner knowing
You take back your power
You hear your YES and NO
There is a desire and force moving you to take action 
You become YOUR new version of BEAUTY
You embrace pleasure
You fall in love with yourself
You know your sensuality is your greatest source for healing 
Your relationship with yourself becomes more vibrant and nourished, which has ripple effects
Your relationships flourish
You engage with life from the place of ravishment
It is a sensual journey into your feminine power through your body and womb space- which is the source of your greatest power,

deepest wisdom & intuition.

Leading you to profound knowing and connection with your EROTIC and Authentic self. To become the woman you truly love. 
The Truth is…
You know the voice of your Queen.
Sometimes we just need a safe, non judgmental, supportive, sacred space, to realign back into our authentic heart and the wisdom of our womb. To be guided back into your feminine wisdom and to be given sensual embodiment practices to reconnect with the woman you truly are at the core. 
Because let's face it, we live in a fast paced, masculine dominated world, where it just doesn't support the feminine expression. Where it doesn't support us to feel nourished, sensual and alive.
When we feel overwhelmed, angry, or in self doubt, this can leave us feeling out of balance, disconnected from our intuition, and even afraid to voice our desires and needs in relationships.
This is the most sacred space where you can reconnect with the essence of you and remember with your whole WOMANHOOD through sensuality and intimacy,  so then your QUEEN self becomes alive and she begins to lead your life.
This is my role for you. To be the space holder as you explore the answers of your womb and connect with your sensuality and pleasure. This is where you remember your womanhood and what that means for you.
My 1:1 sessions are more than just private sessions for helping you deal with stress.
They are beautiful sessions to help you feel grounded, at peace and beautiful.  They are non invasive sessions to reconnect and return to your womanhood. 
And to feel safe to explore your pleasure through touch and movement. 
We will connect with your beautiful body, to know what it feels like to be in your body, activating your sensuality and pleasure. Here is where you access your divine feminine wisdom.
We will recognise what has been holding you back from living your most pleasurable and blossoming life.
We will release and reconnect with embodiment practices to help you move through different feelings of shame, resistance and fear. 
We will practice pleasure and igniting your aliveness to relearn how it feels to embrace the biggest, grandest version of you- the woman you were born to be. 
movement/dance/activation of the womb practices
tuning into intentions and desires
sensual and pleasure practices
womb/yoni embodiment practices
clearing triggers and energising practices
embodiment practices to feel alive in your body
online so we can connect wherever you are
We do much more than just talk about pleasure and feeling safe. We embody this together through sensual dance, movement and different ways to IGNITE your ALIVENESS. 
FEMININE REMEMBRANCE: COME HOME TO YOURSELF
The 10 week group temple for igniting, unleashing and empowering your feminine wisdom. This is about reconnecting and remembering the true essence of YOU.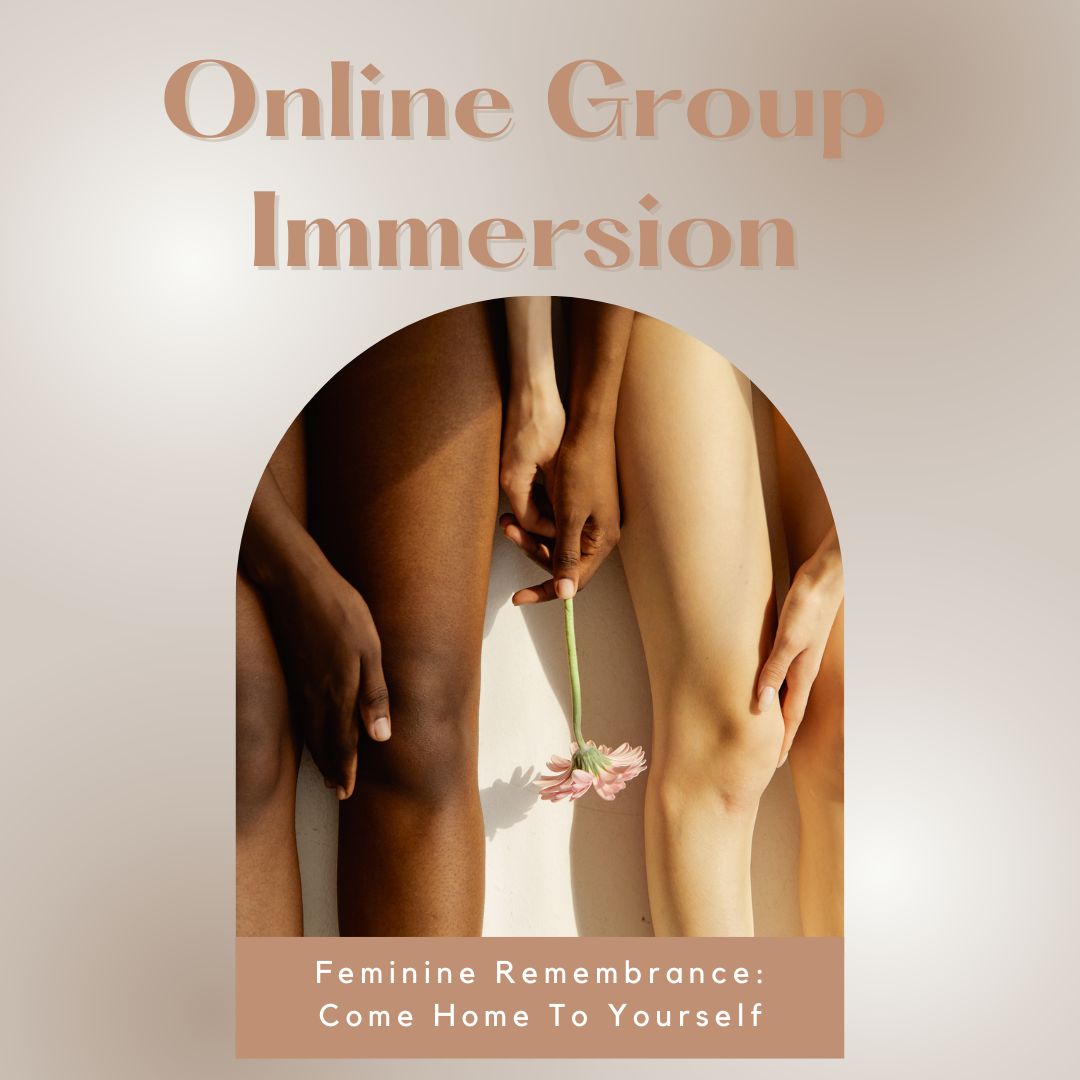 EROTIC WOMAN EMBODIMENT FREE 7 DAY PROGRAM
7 day program to reconnect with your body, womb and heart. A program filled with embodiment practices for replenishment and sensual aliveness.
My soul's mission is to guide you to experience your full sensual potential, to open yourself up to deep and authentic passion in your life and know that you are a source of magnetism to the LOVE you desire. 
As women, we can feel deep pleasure, joy and sensual confidence when we return home to the body and the feminine, to cultivate our sensuality and erotic. The erotic, which is the ALIVENESS, is the secret to a life of love, abundance and ease. 
 THE SECRET medicine is all in your deep, intimate CONNECTION WITH your FEMININE ENERGY. 
In this 1:1 private setting that I hold with such love and non-judgement, we enliven your senses, tap into your sensual self and access your NATURAL ecstatic potential with no apologies, all whilst developing the safety within you. 
This is how you realize the love, and peace that exists within you always.
THIS IS TRUE LIBERATION. 
I have a Masters degree in Education and was a professional samba dancer for many years.
 I have worked with women across the world and I am the living embodiment of facing my fears and following my heart and intuition for the things my womb and heart truly desires. I even moved across the world for a relationship to blossom.
I have extensive knowledge in erotic movement, somatic work, Tao and Tantra and I approach coaching in a holistic and loving way.
I am all about holding the safe space for you to explore the depths of your feminine, your expression, your fears, your guilts and shame to blossom like a flower you are. 
For the last decade, I have dedicated my experience and expertise to the Divine Feminine Wisdom as this is what guides all of my work for women to awaken to their own feminine wisdom.  I have led circles in Tulum with women from around the world and had the huge privilege to witness the awakening of their full feminine potential as they embody the ways of The Feminine. Especially when we come together in circle.  This sensual, pleasure journey is simply magical!
I have overcome my own suppressed feminine expression, disconnection to my body and pleasures and now live my life in absolute devotion to love and trust to my feminine. I have a beautiful conscious relationship with a man who adores me and I live my life in such a way that honors the beauty, love and grace within and around me. 
And I want that for you my love.
Working with Jessica was a wonderful journey. I am so grateful for this amazing and life-changing opportunity and experience. I started to feel a transformation in myself, about my beliefs, feelings and emotions. And I let myself be guided by Jessica, with her smooth and sensitive voice, and her way of being. I went into a journey through my inner self. We explored together a lot of the shadow sides of myself as I was diving in and was feeling the emotions that came up, so I could emerge safely, and experience pleasure and sensuality the way I deserve. For the first time, I could connect and truly experience an embodiment and alignment in my body, mind and spirit, as well as find my own truth. Now I'm able to listen to my inner voice, hold and embrace my darkness,to have intimacy with myself, feel aligned with my inner cicles, to feel more sensual, to glow radiance, and become my own healer. So, for the women who want to feel all that I mention, and for the women who are ready to reclaim themselves and be the Goddesses of their lives, I so much recommend working with Jessica Angileri and being guided by her.
Ines, Portugal
"Jessica is an amazing, wise guide that helped me feel myself after having children when I was exhausted in mind, body and soul. Her sessions were gentle and non-instrusive. Thank you!"
– Tina Walker (Sydney, Australia)
Jessica helped me realize the importance of self care and knowing what my needs are so I can set boundaries in my relationships. Her work also helped me connect to and listen to my body.
-Jennifer Dalian (Sydney, Australia)
Your Self Care Investments
Please complete the form below. Once completed, you will receive an email within 24 hours with further steps on how we can work together. I am so excited you are wanting to take the next step in this journey of your WOMANHOOD sister.
For us to step into loving relationships with others, we need to have the most loving relationships with ourselves, and I am here to support you in this journey of love, sensuality and pleasure. 
Your Womanhood Reconnect
1x Intimate Call/Ceremony (Approx. 60 min)
Your Investment
$180 USD
Your Womanhood Signature
1x Intimate Call/Ceremony (Approx. 60 min)

1x Week Accountability & Check in Support (Email)
Your Investment
$222 USD
Your Womanhood Luxury
2x Intimate Calls/Ceremony (Approx. 60 min)

1x Month Accountability & Support (Email)
Your Investment
$555 USD
7 Day
Erotic Feminine Embodiment Free Series