Feminine Remembrance
Come Home To Yourself
The 10 week online group immersion to ignite your sensual aliveness, know your worth and return to LOVE.
The powerful feminine temple of Coming Home To YOU.
Get on the Waiting List
Starting March 2024
10 weeks into unleashing the magic of your feminine with self love, pleasure, sensuality and embodiment to come back home to the essence of YOU for a life of ease & Awakened LOVE.
FREE 7 Day
Erotic Feminine Embodiment PROGRAM to awaken to your Feminine essence
Feminine Remembrance
Come Home To Yourself Immersion is for:
The woman ready to awaken her pleasure. 
The woman ready to awaken her magnetic power to LOVE. 
The woman ready to be connected to her authentic expression. 
The woman ready to unleash her wild woman. 
The woman ready to remember her voice. 
The woman ready to feel sexually alive. 
The woman ready to experience deep love for her body. 
The woman ready to raise her standards.  
The woman who is ready to trust herself  in a relationship.
The woman ready to know her worth in a relationship.
The woman ready to be held by other sisters with love, realness and safety.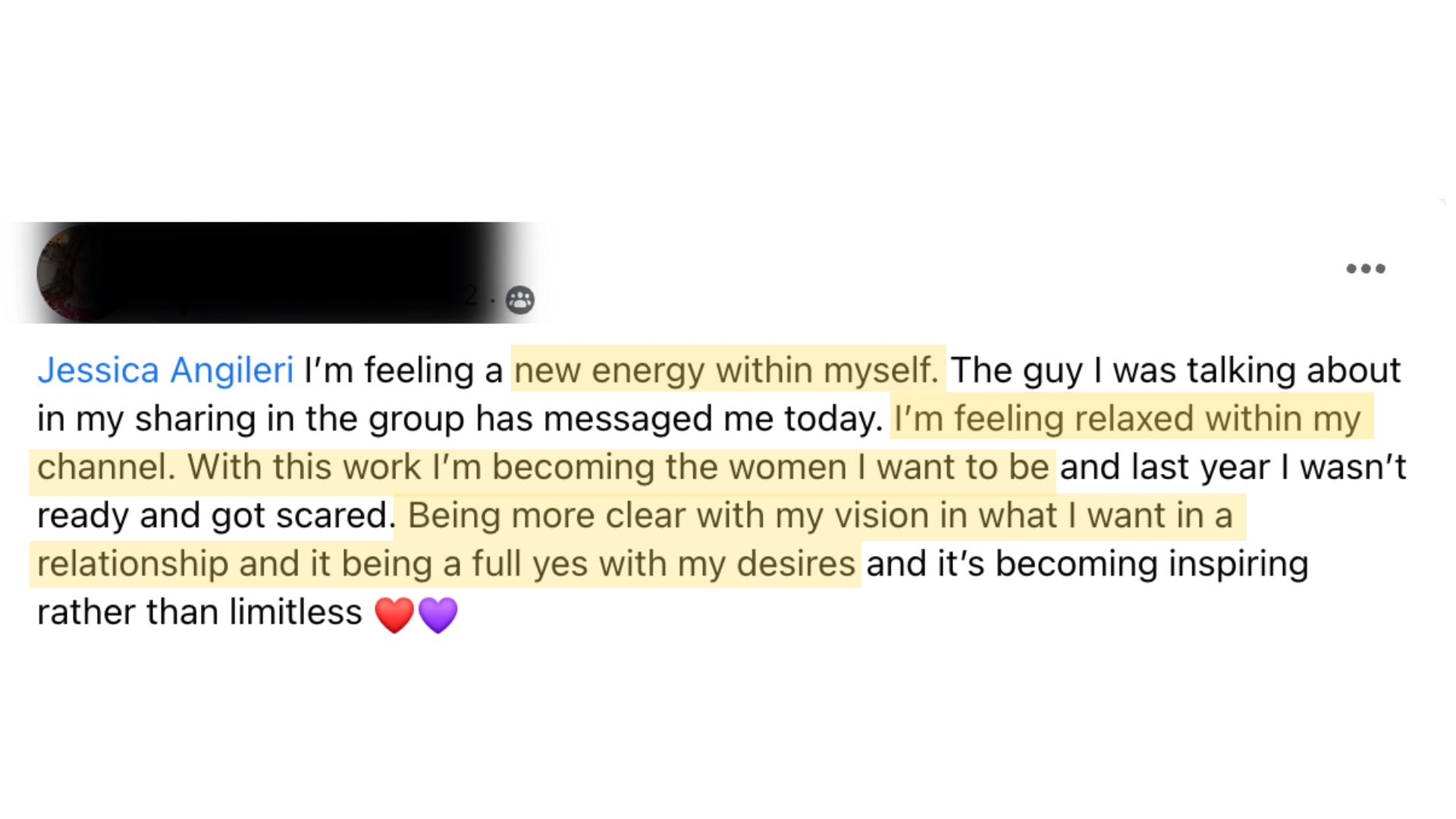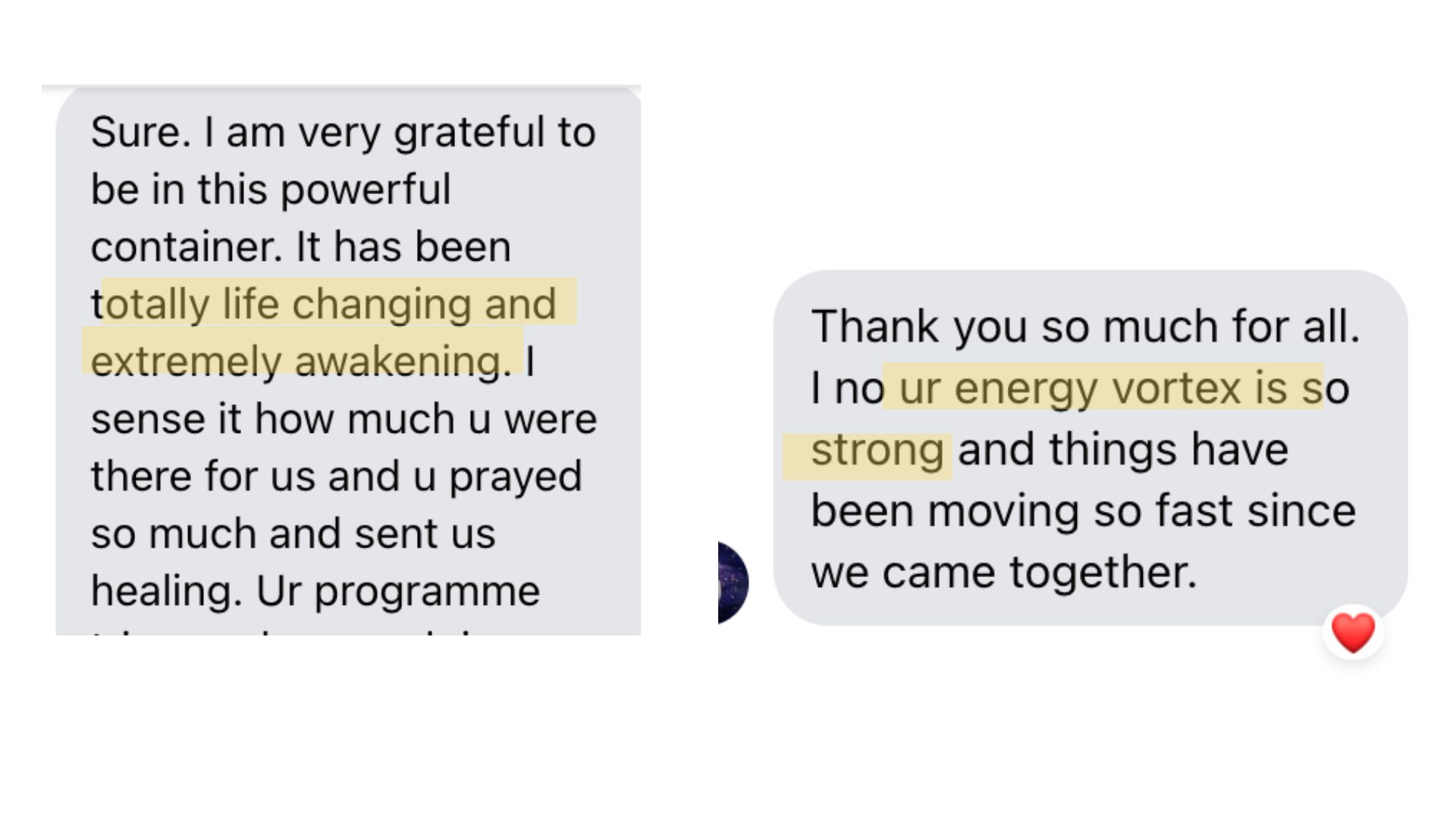 Hi beautiful, my name is Jessica Angileri and I have something very orgasmic for you.
But first let me ask you.
Would you love to learn how to deeply connect with your feminine wisdom through powerful, feminine practices that enhance your sexual radiance and become a magnet to anything you desire?
Would you love to feel confident in your skin and fall in love with all that you are?
Would you like to live and align to greater LOVE? 
Would you love to awaken all of your senses to connect with your pleasure to feel more present and receive what you desire?
Would you love to know how to feel so safe in your body to remember what pleasure and intimacy feels like so that you become your own lover?
Are you ready to unleash your wild woman within?
Would you love to remember how powerful your sexual energy is and use it for manifestation?
Are you ready to meet with the inner Goddess you are meant to be in this world?
Have you had enough of tightness in the pelvis and hips?
Are you wanting to feel sensual so that life starts to feel more blissful?
Are you wanting to receive the medicine of being in a group container?
Are you ready to walk into a relationship konwing your worth?
If the answer is Yes, "Feminine Remembrance: Come Home To Yourself" Group Immersion is the perfect fit for you! 
I love working with you!
They say that people come into your life for a reason. I am so grateful. I am feeling so free, wonderful and blissful right now. You are an amazing mentor and I have learned so much healing from you. I am more clear with my vision of what I want in a relationship and it being a full yes with my desires. Working with you has made me realise my power. I am seeing within myself my queen codes. Thankyou, I can feel the magic never ends.
I always felt as though I had to hide my truth because of fear of the world we live in, of unsafe situations and people. So I suppressed my true self and only relaxed when alone. It was a breakthrough a few years ago just going out in a tank top with nothing covering my shoulders. Now I am beginning to feel safe enough to come out of hiding. Your ceremony is helping me with this. 
I watched it once but I want to go through it again to go even deeper. Thank you for that empowering/powerful experience and inviting us to come alive. 
Annah
Working with Jessica was a wonderful journey. I am so grateful for this amazing and life-changing opportunity and experience. 
 As the process was going, I started to feel a transformation in myself, about my beliefs, feelings and emotions. And I let myself be guided by Jessica, with her smooth and sensitive voice, and her way of being. 
I went into a journey through my inner self. We explored together a lot of the shadow sides of myself as I was diving in and was feeling the emotions that came up, so I could emerge safely, and experience pleasure and sensuality the way I deserve.
For the first time, I could connect and truly experience an embodiment and alignment in my body, mind and spirit, as well as find my own truth. 
Now I'm able to listen to my inner voice, hold and embrace my darkness,to have intimacy with myself, feel aligned with my inner cicles, to feel more sensual, to glow radiance, and become my own healer. 
So, for the women who want to feel all that I mention, and for the women who are ready to reclaim themselves and be the Goddesses of their lives, I so much recommend working with Jessica Angileri and being guided by her.
Ladies, for those of you who haven't joined the "Come Home to Yourself" class, I encourage you to do so. You will learn so much about yourself and you will gain confidence in the areas where you have felt weak or "less than." Jessica Angileri is a wonderful, patient, kind, and loving teacher who will guide you to becoming a more sensual, self-aware woman. Her voice is so soothing and you can feel her love through the videos and live zooms. I highly, highly, highly recommend taking this immersion. Everyone around you will benefit when you invest in yourself and your healing, but, more importantly, you will reap the benefits of a healthier version of yourself.
Love the work of Feminine Remembrance. Highly recommend Feminine Remembrance for all women out there who want to better dive into themselves, into their real essence and be in connection with their womb. It is such a powerful potent space to be in. 
Jessica  has an incredible way of connecting you back to your sexual self so the pleasure and the desire come from within. 
Guiding women from around the world, holding space to help them remember and relearn their true erotic, sensual nature and their true innocence of love. 
What you take with you on this beautiful journey of Feminine Remembrance, Coming Home To Yourself
Meet with your sensual, erotic woman and bring her to life- the beginning of manifestation
Connect deeper with your womb and form a loving relationship with her
Learn how to develop an environment that supports your becoming of your sensual woman
Connect with the energies of your menstrual cycle and offer yourself a blessing of this initiation into womanhood
Learn the different phases you go through each month for a life of ease
Receive the healing medicine of an energetic Tantra Womb Clearing for radiance
Meet with your inner seductive woman through orgasmic breathwork
Release and heal past trauma and shame that is stored in your yoni and womb to become your own healer
Unleash shame and bring out your wild woman
Touch yourself in a way that will bring your safety and open up to receiving more pleasure
Connect with pleasure for healing and love

Overcome numbness of the vagina 

Get to know your yoni on a personal, loving sacred level to access your full power
Sensitize your breasts with a breast massage ritual to open up to the gift of love and sensual aliveness
Dive deeper into your feminine through movement
Discover and connect with your own sacredness
Meet with your desires and become a magnet to love
Heal sisterhood wounds in a safe, group container

Meet with the woman you desire to be

Each week contains  audios and live ceremonies of between 1 – 3 hours. With a variety of embodiment, somatic, sacred movement, Tantric practices.
10 Weeks Group Container
Feminine Remembrance – COME HOME TO YOURSELF
Embodiment/somatic and Ancient Tantra practices for releasing guilt, shame, fear and activating aliveness
Sensual movement practices to make space for pleasure and connection
Breathwork for grounding and presencing
Meditations for becoming the embodiment of the woman you desire
Mix of audio recordings and 6 Live sisterhood ceremonies – 1- 3 hours weekly including homeplays
(Cacao ceremonies I have learned in Mexico)
Downloadable Journaling PDF exercises for integration and inquiry
Supportive private facebook group to share and be witnessed, seen and heard by other sisters
Lifetime access
Working with Jessica was a beautiful journey! I am so grateful for this amazing and life-changing
opportunity and experience. I wanted to have the experience of coming home to myself in a deeper way, and I
decided to say yes to my Soul, as she was speaking to me.
I was having challenges around relationships, and I needed to let go ofthe fears, doubts regarding it, what was holding me back and was no longer serving me. I am really proud of myself and my process of inner growing!
I want to mention some of the highlights. One of them was becoming more certain and aware about my inner
cycles, how important it is! The other one was meeting with my darkness, embracing it and accepting it.
I loved the Wands of Light Embodiment Practice. It was a revelation and I felt really relaxed, rejuvenated and a real
connection to Mother Earth and the sacred waters of my womb. I loved the Menstruation Visual Meditation; it was
so revealing.
All of the embodiments are really a great way of connnecting with ourselves, I loved them.
The journalings are really intuitive, helpful and a wonderful guide to bring the wisdom and truth of our womb, in each week of our immersion process.
I am feeling so much more radiant, more confident, more glowing and beauty inside out.
I want to mention the live circles, they are so potent, powerful, they are really a safe place, where Jessica guides us in wisdom, in a soft and strong way through the practices, and we know we are held in love, care and safety. Now, even knowing it's a constant process and evolution, I'm able to listen to my inner voice and to embrace my true essence and my cycles.
I so much recommend to work with Jessica and be guided by her. I am so grateful to meet this wonderful sister and her inspiring work!
Inês Gonçalves
The temple of remembering your power through your womb, heart, yoni and body.
Bonuses
Meditation to retrieve your sensual vision to begin the journey
Live blessing ceremony to annoint yourself in this initiation
Feminine Remembrance Prayer
Downloadable Affirmations to inspire your feminine Queen
Week 1: Shifting the Feminine Paradigm
Learn the herstory and release tension and old trauma from the womb in an ancient tantric practice.
Break the conditionings and pre-conceived ideas about the feminine and how a "woman" needs to be.
Bonus: Learn how to set up a sensual space that supports your feminine to blossom
Week 2: The power of your Inner cycles
Explore the different phases and the energies of your menstrual cycle and how you can soften into these phases in your day to day life to feel more in balance.
Receive a menstruation guided visual meditation to support your bleeding time and feel rejuvenated.
Receive a divine feminine healing Earth ritual for restoration.
Week 3: The Shadow Side of Sexuality
Live Sisterhood Circle: Exploring Sexuality, shame.
Soothing the nervous system through sensual, sacred touch for somatic healing.
Week 4: Dance out your shame
Live Sisterhood Circle: Dance and release through shaking, hip movements and twerking to move through resistance, old shame, feelings of unworthiness.
Ignite your sexual radiance as you reclaim your sensuality.
Week 5: Radiating Beauty Inside Out
Redefining beauty standards. The power of beauty, authenticty, self expression and self love.
Receive an Ancient Tantric Practice of yoni gazing with a body love embodiment practice.
This is all about reloving and remembering the power of your beauty inside and out. 
Week 6: Dark Seduction
Live Sisterhood Ceremony:
Replenish your sacred feminine through expanding into the frequency of love. Feel the love and blessings unfold through an Ancient Tantric Ritual.
Week 7: Yoni Awakening
Form a relationship with guilt and learn how pleasure is your blessing to your feminine.
Receive a Yoni de-amoring/massage for releasing shame and guilt.
Ignite your pleasure through your deep intimacy.
Week 8: Warrior Goddess
Exploration of the masculine themes within that holds the container for your feminine Queen self to blossom
Learn about boundaries and setting high standards.
Receive an Embodiment Dance to work the core, self worth and confidence.
Week 9: Unleash your Wild Woman
Live Sisterhood Ceremony: Ignite the wild woman within through ecstatic, sensual pleasure.
Practice being seen in this guided meditative dance. And  become the embodiment of your own Erotic Woman to open up to receiving. 
Write out your new magnetic, feminine story for Manifestation and bring your sovereign Queen to life.
Week 10: Celebrating your Magnetic Queen
Live Sisterhood Ceremony: Integration, Celebration and Manifestation through Ancient Tantric Practice.
Embracing your inner Goddess to magnetise LOVE.
In love with your pleasure, your sexual power and your desires

With a new profound love for your body

With a renewed sense of joy of being alive in your sacred body

With a  whole new level of safety and freedom in your own skin

With an inbuilt know-how of activating the power of your magnetism

Feeling full from within, radiant and blissful

Connected with your inner rhythms

Resting in your worthiness

Feeling beautiful and more connected to your inner wisdom

Feeling established in clear and healthy standards and boundaries, that determine what kind of energy is accepted in your field, and what is not acceptable

Being in embodiment of the woman you desire to be

Ready to open your heart for the conscious masculine

Knowing that when you are thriving in your pleasure and power you are doing it not only for your relationship but for you, and for the path of being in service of your Love and your highest self
Hi beautiful. 
I am Jessica Angileri. 
My soul's mission is to guide you to experience your full sensual potential, to open yourself up to deep and authentic passion in your life and know that you are a source of magnetism to the LOVE you desire.
As women, we can feel deep pleasure, joy and sensual confidence when we return home to the body and the feminine to cultivate our sensuality and erotic. The erotic, which is the ALIVENESS, is the secret to a life of love, abundance and ease. 
 THE SECRET medicine is all in your deep, intimate CONNECTION WITH your FEMININE ENERGY.
In this Immersion you get the experiences that I curated with LOVE, to ENLIVEN your SENSES, to tap into your EROTIC, SENSUAL self and access your natural ECSTATIC potential. 
Most importantly, you will come home to the medicine of your LOVE which is the glue to all your MANIFESTATIONS. 
THIS IS TRUE LIBERATION. 
I have a Masters degree in Education and was a professional samba dancer.  I have worked with women across the world.  I am the living embodiment of facing my fears and following my heart and intuition for the things my womb and heart truly desire. I even moved across the world for a relationship to blossom. Years later we are still thriving. 
I have extensive knowledge in erotic movement, somatic work, Tantra and I approach coaching in a holistic and loving way. I am all about holding the safe space for you to explore the depths of your feminine, your expression, your fears, your guilts and shame to blossom like a flower you are. 
 For the last decade, I have dedicated my experience and expertise to the Divine Feminine Wisdom as this is what guides all of my work for women to awaken to their own feminine wisdom.  
 I have led circles in Tulum with spiritual women and had the huge privilege to witness the awakening of women's full feminine potential when they embody the ways of The Feminine. Especially when we all come together in circle. 
I have overcome my own suppressed feminine expression, disconnection to my body and pleasures and now live my life in absolute devotion to love and trust to my feminine.
I have a beautiful conscious relationship with a man who adores me and I live my life in such a way that honors the beauty, love and grace within and around me. 
 And I want that for you sister which is why I can't wait to hold this sacred space for you to journey into the Feminine Remembrance Come Home To Yourself Program.
This sensual, pleasure journey is simply magical!
It is transformative and you won't walk our the same. You will walk out empowered, unstoppable and in love with YOU- relcaimed, restored and reenergised. 
This a journey of upgrading your Queen Codes of Self love, Self Worth, Sensuality, Sacred Sexuality and Embodiment
Your Investment to Yourself
 $444 USD
Early Bird Investment (Save 36%)
Feminine Remembrance: Come Home To Yourself
10 Week Group Program
6 LIVE Sisterhood CEREMONIES
Embodiment practices and meditations
Audio trainings/masterclasses (1-3 hours per week)
(Cacao ceremonies I have learned in Mexico)
Downloadable Journals PDF exercises for integration and inquiry
Supportive private facebook group to share and be witnessed, seen and heard by other sisters
Lifetime access 
(Monthly Payment plans available)
Feel free to connect with me here to discover more about this program and how it aligns with you. 
OPTION 2 Group Program +
1:1 Support
 $1049 USD
Early Bird Investment
Feminine Remembrance: Come Home To Yourself
10 Week Group Program
6 LIVE Sisterhood CEREMONIES
Embodiment practices and meditations
Audio trainings/masterclasses (1-3 hours per week)
(Cacao ceremonies I have learned in Mexico)
Downloadable Journals PDF exercises for integration and inquiry
Supportive private facebook group to share and be witnessed, seen and heard by other sisters
Lifetime access 
+
3 x Private 1 Hour Alchemy Sessions for women who require one-on-one support throughout these 10 weeks 
(Monthly Payment plans available)
Feel free to connect with me here to discover more about this program and how it aligns with you. 
**This program is exclusively for WOMEN only. Any person who is not a woman will not be accepted. 
I feel a bit disconnected from my body. Will this course bring up stuff I'm not ready to face? How am I supposed to handle it if I get triggered?
First off, know that this is totally normal. We live in a world that actively discourages emotional awareness and trusting our feminine body.  We aren't going to shame anyone for feeling a bit disconnected.
The immersion is designed with your comfort in mind. Jessica takes a sensitive approach and provides resources to help you process intense feelings with conscious movement, breath practices and ancient embodiment tools. 
While it's not a trauma-healing program, Jessica provides a safe and supportive process  and space for exploration.
Is this live or recorded?
There will be a mix of recorded audios/trainings and live ceremonies online. 
There are 6 live ceremonies altogether. 
I don't really feel very feminine. Is this immersion for someone like me?
Absolutely. We challenge the traditional idea of what it means to be a woman. The whole point of this group 10 week immersion  is to empower you to connect with your true self, regardless of how you compare to society's expectations (which are often impossible to live up to).
I've never really explored these topics before. Is the course too advanced for me?
This experience provides valuable insights and tools in a digestible way. And you can always come back to the modules to help you digest the information further. 
Healing is never a race. If you are ready to be devoted to this journey of love and transformation, then it is for you. 
The course offers a genuinely unique perspective on somatics, sexuality, love and what it means to be a woman. Women of all experience levels are going to receive something of real value here. 
Dropping the mind and returning to your body changes everything. 
I Hope You're Excited As I Am…
Because I can't wait for you to learn how you can unleash the power you hold, take back responsibility for your sensual radiance and start your journey along the feminine path that feels so nourishing to the soul.